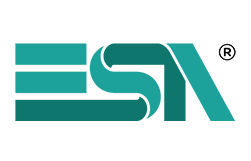 Web Panel 4.0 évolution du client IHM classique – ESA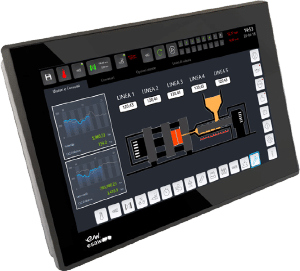 Le Web Panel ESA représente l'évolution du client IHM classique basée sur la version 4.0 de l'industrie. Grâce au puissant navigateur intégré et au véritable écran plat jusqu'à 15″, il optimise la visualisation des données de production et de toute interface développée en HTML5.
Display true flat from 7" to 15" with capacitive touch screen.

Maximum openness to display any web content.

Industrial grade hardware based on powerful Cortex A9 quad core processor.

2 USB ports.

Double Ethernet port.

SDHC card reader.

Optional serial port and Wi-Fi and 3G communication capability.

Can be installed on VESA arm or inside the panel.
Principales caractéristiques :
Lanceur personnalisé
Chrome Bowser
Micro-navigateur préinstallé (EW1xxxD300)
Serveur et client SNTP
Revêtement PTFE sur la face avant en aluminium
Écran tactile capacitif
Écran haute luminosité de 16 millions de couleurs
Arm Cortex A9 Quad Core CPU
2 GB DDR3L Ram
8 GB Flash
SDHC v2.0 (jusqu'à 25 Mbyte/s)
2 ports USB v2.0
1 port Ethernet 1 Gb + 1 Ethernet 10/100 Mb
1 port RS232-485 (en option)
Wi-Fi et 3G (en option)
| | EW107BD2SP | EW107BD3SP | EW110BD2SP | EW115BD2SP |
| --- | --- | --- | --- | --- |
| Display Size | 7″ | 7″ | 10,1″ | 15,6″ |
| Display Technology | TFT | TFT | TFT | TFT |
| Display Backlight | LED | LED | LED | LED |
| Protection degree (front) | IP 66 | IP 66 | IP 66 | IP 66 |
| Browser | Chrome/ WebView (fullscreen) | Chrome/Microbrowser | Chrome/ WebView (fullscreen) | Chrome/ WebView (fullscreen) |
| Certifications | CE / EN60068-2-6 / EN60068-2-27 / Humidity EN60068-2-30 / UL | CE / EN60068-2-6 / EN60068-2-27 / Humidity EN60068-2-30 / UL | CE / EN60068-2-6 / EN60068-2-27 / Humidity EN60068-2-30 | CE / EN60068-2-6 / EN60068-2-27 / Humidity EN60068-2-30 / UL |
| Touch Technology | Capacitive | Capacitive | Capacitive | Capacitive |
| Processor | ARM Cortex A9 Quad-Core | ARM Cortex A9 Quad-Core | ARM Cortex A9 Quad-Core | ARM Cortex A9 Quad-Core |
| Humidity | <90% (non condensing) | <90% (non condensing) | <90% (non condensing) | <90% (non condensing) |
| Storage Temperature (°C) | -20 … + 65 | -20 … + 65 | -20 … + 65 | -20 … + 65 |
| Operating Temperature (°C) | -10 … + 50 (non condensing) | -10 … + 50 (non condensing) | -10 … + 50 (non condensing) | -10 … + 50 (non condensing) |
| Display Resolution (pixel) | 1024×600 | 1024×600 | 1280×800 | 1368×768 |
| Display Brightness (cd/m²) | 500 | 500 | 350 | 300 |
| External dimensions(W/H/D) (mm) | 192 x 132 x 32 | 192 x 132 x 32 | 269,3 x 187,3 x 45 | 416,5 x 265,5 x 45 |
| Cut-out dimensions (W/H) (mm) | 185,0 x 125,0 | 185,0 x 125,0 | 255,5 x 173,5 | 402,5 x 251,5 |
| Backlight life(hours) | 50k | 50k | 30k | 50k |
| Display Colors | 16M | 16M | 16M | 16M |
| Power Supply (Vdc) | 12-32 | 12-32 | 12-32 | 12-32 |
| Flash | 8GB | 8GB | 8GB | 8GB |
| Consumption (W) | 7 | 7 | 24 | 24 |
| RAM | 2 GB DDR3L | 2 GB DDR3L | 2 GB DDR3L | 2 GB DDR3L |
| USB Port | 2 x vers. 2.0 | 2 x vers. 2.0 | 2 x vers. 2.0 | 2 x vers. 2.0 |
| Serial Port | 1 X RS232/485 | 1 X RS232/485 | 1 X RS232/485 | 1 X RS232/485 |
| Expansion Slot | 1 x MINI PCI express | 1 x MINI PCI express | 1 x MINI PCI express | 1 x MINI PCI express |
| Ethernet Port | 1 x 1 GB + 1 x 10 / 100 Mb | 1 x 1 GB + 1 x 10 / 100 Mb | 1 x 1 GB + 1 x 10 / 100 Mb | 1 x 1 GB + 1 x 10 / 100 Mb |
| Weight (kg) | 0.5 | 0.5 | 1.1 | 3.7 |
Principales caractéristiques :
Interface de bureau
Chrome Browser
Client SNTP
Client NTP
Revêtement PTFE sur la face avant en aluminium
Écran tactile capacitif
Écran haute luminosité de 16 millions de couleurs
Arm Cortex A9 Quad Core CPU
4 GB DDR3L Ram
8 GB Flash
SDHC v2.0
2 ports USB v2.0
1 port Ethernet 1 Gb + 1 Ethernet 10/100 Mb
1 port RS232-485 (en option)
Wi-Fi et 3G (en option)